There are a few things you need to know when it comes to Libra and marriage.
If you are a Libra looking to get married or you are hoping to marry a Libra, this is the article for you.
So, who should a Libra marry?
Symbolized by the weighing scale, they need a life partner who can captivate them with intelligence and add balance to their personality. According to astrologers, there are 4 zodiac signs that Libra should marry.
Keep reading to discover…
Top 4 Greatest Matches for a Libra to Marry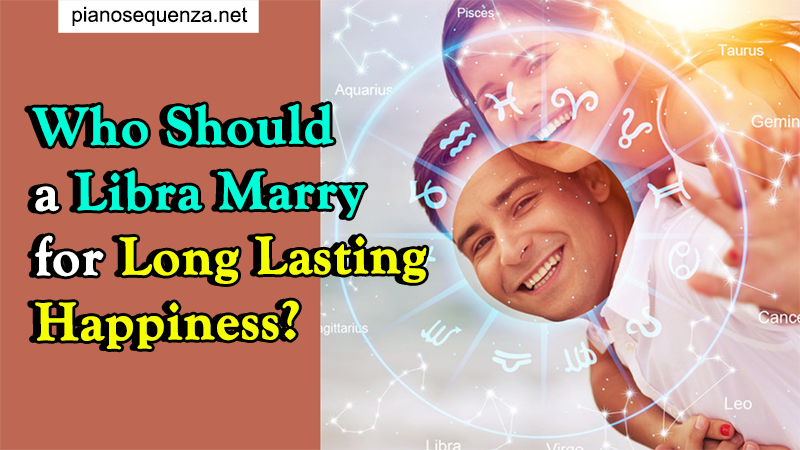 What type of person Libra should marry?
Ideally their perfect partner must be someone as intellectual as they are. Like other air signs, they're well known for their wisdom. They can get along well with individuals sharing the same intelligent level. Libra also needs mental stimulation, so don't be afraid to show them new ideas.
If anyone wants to stay with a Libra, you must be a romantic yet self-sufficient person. They expect you to accompany them whenever they feel needed. Respect their privacy and space instead of clinging around them.
Also read: ­8 signs a Libra man likes you
They, in general, look for a social, independent partner.
1. Libra and Sagittarius
This is a great match on many levels.
With the air and fire combination, undoubtedly these two signs get along very well. They have plenty of things in common, especially personality. Adaptable and sociable, Libra and Sagittarius can make a harmonious marriage.
Sagittarius is a true social butterfly.
They can walk confidently in a room and quickly get along well with most people. It seems like everything is easy because Sagittarius doesn't really put pressure on whatever they do. They only have a little bit of tough time in making decisions or committing. If a Libra encounters the same problem a Sag has, they can work together to get over it.
Libra and Sagittarius are likely to get married, though the archer may take longer time to decide. Due to their similarities, they can encourage one another when being together and will never step on each other's toes.
Discover the best match for Libra woman in marriage…
2. Libra and Libra
The marriage of two Libras is filled with a lot of positive energy.
When a Libra is falling in love with another Libra, the relationship will be full of optimism and beyond excitement. Overall, this is a positive match because they can help balance each other (which is the thing Libras need most) and bring out each other's extreme.
As mentioned earlier, these Libra natives have a difficult time in making decisions. They also find it hard to commit in serious relationships including marriage. Since stability and security are what they search for in a partner, they won't end up with someone who is imbalanced.
Once two extreme Libras are together, a source of positive power will be generated. No dull moment at all, this match will definitely be fun yet also get more mature as time passes. The connection will blossom and lead to mutual fulfillment in mentality, emotion, and spiritual growth for both sides.
3. Libra and Taurus
How is the marriage compatibility between Libra and Taurus?
Taurus will be a pretty good match for Libra if Libra has no issue with Taurus taking control the relationship. In relationships, the bull tends to be the one setting the pace; therefore, they would love to be with a supportive life partner.
As a social person, Libra is great with getting along. They are likely to make the first move and capable of comforting the bull. We all know Taurus is ambitious and impulsive; luckily, having the Libra partner by their side can help them make right choices.
Both show their great teamwork in dealing with material and financial security.
4. Libra and Aries
Is Aries a good match for Libra in marriage?
This is also a side with great ambition and can't stop moving forward. If Taurus is full of strength and willpower, Aries is more gruffer. Influenced by fire element, the ram is hot-tempered and egoistic; that's why they get irritated easily.
Not many realize but Aries does like attention and sometimes grabs others' limelight unintentionally. For sure most people dislikes this trait of theirs. It's a fortune if Aries gets married with Libra because this sign is good at balancing and mellowing.
These two can maintain each other's equilibrium and support each other constantly so that they can keep walking on the love path happily. Rather than being critical constantly, they complement one another.
You may find this interesting: Signs a Libra plays with your feelings
Libra Marriage and Issues
Some say that it's impossible for Libra to get married because of their flirtatious nature, but that's not true. They get married all the time actually – Libras are loyal and devoted once finding the right person.
The problem between Libra and marriage, in fact, is they are not sure if they are really ready to commit.
It's not hard to realize that their biggest challenge is to make a decision. In my opinion, Libra is struggled with getting off the fence; especially when it comes to the matters of marriage, they have a tough time.
Why?
Symbolized by the scale, Libra natives are influenced mostly by its qualities. While they claim that they're expert in weighing decisions and reasoning things out. Nevertheless, that's just their excuse for not making up their mind. Instead of giving the final decision, they spend much time for the process.
So, you must keep this in mind when thinking about getting married with a Libra.
The Bottom Line
In a nutshell, who should a Libra marry?
Actually all horoscope signs can get along with each other, but the connection between some pairs are much stronger. Those 4 signs above are believed to be the best matches to Libra in marriage. Being with either of them, Libra can find the satisfaction and fulfillment in love that they've always looking for.
Sagittarius, Taurus, Aries, and fellow Libras won't have many conflicts with Libra – just bickering some time. But, if a marriage has enough maturity and understanding, it can last forever.
Both parties must put effort, time and patience in the relationship for the ultimate success.
For more info about Libra, leave your comments below.
Terms:
https://www pianosequenza net/who-should-a-libra-marry/